Post by pornstar on Sept 15, 2007 17:33:35 GMT -4
Static...
What is going on in APW-land?... the answer piles up through the mess...
Ladies and Gentlemen, you are now tuned into the often imitated, never duplicated show of "Fuck-You-Uppery..."
"That's right! Familia, BITCHES!!!
*Syndicated 90's sitcom cheering: Think Pam Anderson showing up with her young bewbs on Home Improvement*
"That's right... when this voice comes on with the Fam Logo in the background, you KNOW an ass is gon' get roasted... and fuckin' A... who's on the choppin' block?
Cabal Xavier? Naaaaaaaaaaah... he ain't piss me off again yet...
Showtimah over his win? Nah, fuck 'em... I'll use any nickname I want cuz apparently givin' nicknames to oneself is the cool thing to do... but, while we're on that topic...
Some numbnuts nimrod's gone about callin' his ass the "Mastermind..." and apparently forgot that is s'pposed to mean he's smart and capable of speaking articulately... (yeah, I know what that word means, ninjas....) so... yeah. You see where I'm goin' with this why bitches shouldn't give themselves nicknames? And... if this asshole was such a Mastermind... what the fuck's he doin' lookin' like the fuckin' PINK POWER RANGER?!?!?!"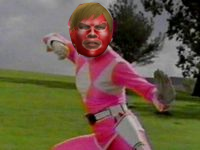 "If you guessed that I was talkin' 'bout APW's resident n00b Warrior... then you.... are....
RIGHT!"
Dice can already be seen in the background trying hard to keep his composure...
"Seriously... this is the type of dude you use for them joke storylines like... illegitimate kids and shit... Fuck, I'd rather have a leprechaun midget get produced by my stubby shillelagh over this fuckin' tool... Seriously... people tell me that I RIP BITCHES OFF? If I were Disney and Bandai, I'd be suing the hot ass offa each of these Angels just for fuckin' pushing this moron and letting him talk, fight, or hell, be seen. That's PLAGIARISM!!!! Where's the FCC when you need their asses! We don't need them censoring me gettin' bitches naked... we need them censoring stupidity! Christ... now I'm so hot over this shit I gotta pass the mic... Seven! Start rollin' one up! I need to calm my ass down and FUCK! Who gets this shit???"