Post by Joe Bruiser on Mar 22, 2007 0:26:03 GMT -4
Eye Of The Tiger hits over the arena and Joe Bruiser comes out onto the stage wearing a pair of boxing shorts, his entrance jacket, Boxing Gloves, and sunglasses. Joe taunts for the fans who are cheering for him. He begins to make his way down to the ramp clapping with fans along the way. Once at the ring, Joe climbs up into the ring and grabs a Mic and speaks.

[glow=blue,2,300]I'm sure you fans have seen the promo or was there when 187 made fun of me. Yes and in case you didn't see it, here you are.[/glow]

The video that 187 made begins to play and you see the picture that was made by him.




And the video ends after another minute of the fake Joe Bruiser talking and all.

[glow=blue,2,300]Now I'm sure alot of you find that funny. I will admit, it made me laugh out of complete boredom. It could of used ALOT more help for how bad it was. But 187, I have made a video of my own. PLAY IT.[/glow]

Joe then spins and points at the titantron and you see a fake 187 being played none other than Joe himself.

Yo yo whattup my homies.

Joe is wearing 187 look alike clothes and has a backwords hat on and a doorag on his head.

Yo yo this is za 187 here, and im in jail just like dat Buza said id be. Dats right, im here in my comfy ol jail cell after I was caught stealing a BWWUUZZAA from the local store down the road. Man was I stupid, but that stuff is just ol so good. I just couldn't help myself you no. Dat Buza was so right when he said id be here one day. It really does feel like home here.

Joe/187 runs and jumps on the bed which then falls out of the wall onto the ground.

Ohhhhhhhh man now dat was some shit dere. But it always happens when I jump on it haha.

Joe/187 gets up from the ground and walks over to the camera.

You want to see somethin else funny?

Joe/187 walks over to the wall which has a poster of Joe Bruiser covering up a GIANT hole.

You see dis? Dis is my way out. But you see, its also not my way out.

Joe/187 crawls into the hole and crawls right out into the back yard where all the other inmates walk around.

You see dere? Dat was the dumbest thing Ive ever done. DURRRRRRRRR.

Joe/187 slaps himself in the face.

So da next time yu see Joe Buza make sure you congratulate him on putting me away. Dis is heaven on a bun, welcome to the Johnsonville county prison.

Then the camera fades away up into the air as you see sort o0 like a Shawshank Redemption moment when you see Andy Dufresne(Tim Robbins) raise his arms after he escaped from the Shawshank Prison. The camera then fades to black and you hear a mysterious voice begin to talk.

Don't ever let criminals run. Make sure you lock every single one of them up like this............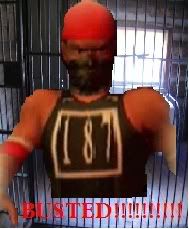 And also don't forget to buy yourself a BWWUUZZAA. It gives you energy you never thought you had.

Then you hear Joe's voice.

[glow=blue,2,300]Brought to you by Bruiser productions. [/glow]




The video ends and the camera goes back on Joe who is laughing his ass off.

[glow=blue,2,300]OH MY FUCKING GOD YOU GOT TO BE KIDDING ME.[/glow]

Joe falls to his knees and laughs even more.

[glow=blue,2,300]Oh my, that was even funnier then the first 20 times I watched it HAHA.[/glow]

Joe then gets back on his 2 feet.

[glow=blue,2,300]But lets get back on subject. Haha. Alright, 187 must really enjoy pushing my buttons, and I like pushing his back. Hummm I wonder how mad he will be after watching that video? Hummmm oh well back on topic. So Ive come up with the perfect match for us then. Where he will have the chance to push my buttons not once, not twice, but 3 possible times if needed. Thats right folks, I am talking about a 3 STAGES OF HELL.[/glow]

The fans go crazy as Joe begins to walk around the ring.

[glow=blue,2,300]First match will be what I pick. I pick a LADDER MATCH. The second match will be picked by you 187. So come on out here and pick your match.[/glow]

Joe waits for 187 to come out.