Post by pornstar on Jun 24, 2007 16:05:24 GMT -4
The rumors were true... PornStar, Buck Wylde was no more... his visage fills the titantron, but "Summer Romance" isn't played... instead, Saliva's new hit single, "Broken Sunday" kick's off as Jason Arielle is at the head of the ramp, throwing his hand in the air as the music kicks into high gear!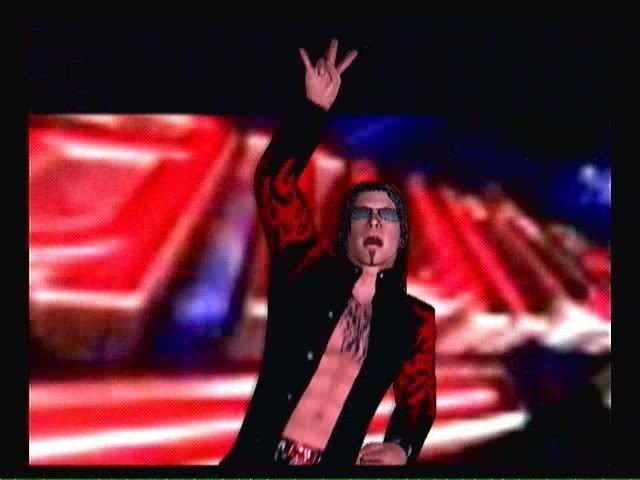 The fan reaction is somewhat different, they don't know what to expect from the man who traded in his usual pink highlighted ensemble for red and black, his tank top for a jacket. Pointing to the fans, he slides into the ring, rolling to his knees and standing as he takes the microphone, listening to the crowd chants... actually, kinda along the lines of what he expected...
WHAT THE FUCK? WHAT THE FUCK?
"Awwwwwwwwww.... I missed you bitches too. I'm sure my names been slandered by you all now... father's hide your thirteen year old daughters, the state says I'm out to get 'em, right? Well..."
A scanned ID, the name and face blurred, but the birthdate wide open and clear...
"Of course protectin' her ID, so you don't see the skank, but see that birthdate? March of 89... we got us a lyin' bitch. I win! Sometime soon officially, but y'know. ANYWAYS..."
The fans do start to cheer now... they know what's coming... a good old fashioned ass hazing...
"IT SEEMS... that some pussy bitch with a thyroid problem in the back, the "can't tell if he showered" Cabal Xavier's gung ho about putting down the Fam, right? Thinks he has it all figured out, probably thought me gettin' locked up was a major victory for 'im... guess what, ninja?
I'M
BACK!!!!!!!!!"
[/u][/size][/color]
Oh, shit... he's right after the same target. God only knows what new zinger's he's thought up while in prison...
"Oh, wait... we gotta have Mommy come out and speak to me, don't we? Gotta hide behind her skirt, think you're all man for avoiding me and havin' a woman do your job because you're too fuckin' scared of an ass-grassin' to show, right? Bitch, please... how you gonna cut off the head of the big bad rattlesnake when the warnin' sign tails shakin' in your face and you can't even get past that? What makes you think that zappin' V ain't gonna bring in someone else... *cough* me *cough* totally unleashed to make your life a crybaby, run away and quit hell? Fuck it, may as well hide, may as well, may as well disband, may as well go somewhere where someone's gon' suck yer dick and play nice with you cuz you can't take it any other way. You think you got rid o' me? You thought WRONG, Cabal, and I don't care if I gotta get Vegas out here to give a fuckin' REACHAROUND to get your attention in this ring, you and me? Degree of Domination, we's gonna dance. 1 on 1, tag, dog shit on a pole match, I don't give a fuck. You wanna be a rip off on "Da Man" using all his finishers, praying that you got the same domination streak and all that bull fuckin' shit? C'mon down and prove it, motherfucker, and watch as a little ArialAssault slams you right on your back, blanking your lights, and counts you for the three! Hell no, I ain't penetration, I'm flat out fucking you up!"[/center][/font]