Post by pornstar on Oct 5, 2007 3:24:00 GMT -4
"I'm fuckin' BORED!!!"
[/font]
Location: The APW Tower View and Lounge...
Subject: Jason "Buck Wylde, PornStar, King Large-Cock, Fat-Chick-Pointer-Outer, Lesbian-Maker, Your Illegitimate Father" Arielle.
Mission: Decrease Boredom...
Yes... it is Jason Arielle... the scourge of the roster with the greatest motherfuckin' gimmick....
[/font]
EVAR!!!!
[/font]
And he comes to you with another episode of just why I shouldn't be bored... set to debut on FamDVD tomorrow... Soon to end in the buy one get three free bin with his former Riot mask, "Get More Pussy Book" and "Dice's: Pimpilicious: How to get bitches to sell pussy for YOUR benefit," along with PornStar's forthcoming Cabal Xavier doll, accessorized with miniature needles for 'Roid Rage, F-Bomb dropping fun. Watch the wives, kiddies... this one's sure to get violent.
Somehow... I think the health code is gonna get broken... probably a good thing that Canadian's get free health care. And, how he got into the kitchen of the Lounge without getting halted by a pot of boiling, still alive lobsters flying at his face is beyond, well... everybody. He'll blame the Mexican janitor... that's for sure.
Then... he sees an outlet... a release...
Hmmmmmmmm..... *approaches pie*
"Hey, there, Miss... "Alpha Female..." Whatchu doin' in a place like this, hm? YOU know... I been thinkin' about you a lot... well, since our little moment in the sex shop... oh yes... You felt it too? Ah... yeah... I knew you had your ass right there for me... No need to explain... I get it all... the.... time.... Don't feel embarrassed... It's okay, it's okay... What's that?"
He brings his ear closer to the pie...
"You want me inside you? But Miss "Alpha Female!" We're in public!"
He *Spanks* the tin of the pie...
"You're a bad Alpha Female... You still want me inside you?"
Shifty eyes look around. The coast is clear...
"Well... if you insist..."
*pants come off... he mounts... Spastically thrusting the poor morsel...*
"Oh... oh god... Lilith... *groans*... God, I can see why Jon was yer little bitch... I can see why he fried himself cuz he couldn't have ya no more... Oh God.... I think... I think I'm gonna... yer so good... I just can't hold o---"
He stops. Something else has caught his attention... Reaching out and diggin' precisely THREE fingers into this one... since anything else would be a pure insult... and towards him he drags a...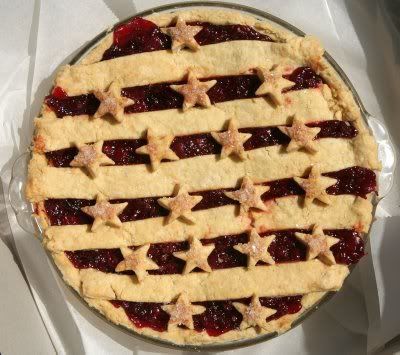 Cherry Pie... sweet, Cherry Pie....
"Fancy meetin' you here, Candice... Oh... me and Lilith? We just... couldn't contain ourselves no more... she's sooooooooo in to me... much more than that Italian bastard runnin' my Fam... So, you know... one thing lead to another... And now... lookit me! Halfway to balls deep in Lilith... and well, two knuckles into you...."
*Brings the cherry pie even closer...*
"I think that means ya want some....
TONGUE!!!"
Buck plunges face first in, his near foot long tongue scraping bottom, the spastic, orgasmic thrusting into the pie continues as he orally stimulates the other until he's busted by...
[/font]